Gentle, Comprehensive Children's Dentistry in Allen, TX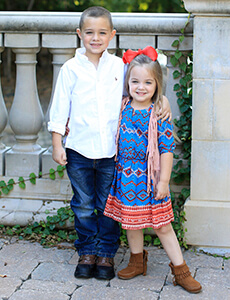 When it comes to your child's dental care, a special touch is required. The path towards great oral health can be a tough one if they're frightened or unhappy about the experience, and many adults can attest to having a bad visit with a dentist when they were younger that's colored their attitude ever since. At Southern Star Dental, our team takes this responsibility very seriously. We work closely with children to fully understand their personalities and needs, taking care to be as gentle as possible throughout the entire treatment process. Dr. Pennie Moreland is happy to provide pediatric services here in Allen, TX so families can all visit together! Please contact us today if you'd like to schedule your first appointment. We also welcome patients from Plano, Lucas, Fairview, McKinney, and beyond.
When should my child attend their first dental appointment?
The American Dental Association recommends that children attend a brief check-up around their first birthday. While this visit is usually a quick one, it's good for your son or daughter to become used to the sights and sounds of the dental office from an early age, as well as the friendly faces of Dr. Moreland and her staff.
There are some important steps parents can take to help their child have a good experience at the dentist's office. Practicing at home can help familiarize them with what to expect, and bringing a loved toy or book along for the trip provides them with a sense of comfort. Additionally, use positive words when describing their upcoming visit, and don't share negative experiences. If you're scared or overly nervous, there's a good chance your child will pick up on it and inherit the feeling.
Personalized Attention
Starting from their very first check-up, Dr. Moreland adjusts her approach depending on your little one's personality, fear level, and emotional maturity. With the help of gentle evaluations, our team will be able to locate tooth decay, dental injuries, and even possible developmental concerns that can be averted early on. Once your child is old enough, we also teach them how to properly brush and floss their teeth.