Family & Preventive Dentistry in Allen, Texas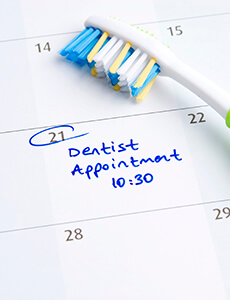 You can find a wide variety of restorative and cosmetic solutions at Southern Star Dental – but what if you never needed them? With preventive care, Dr. Pennie Moreland reduces the risk of oral damage and identifies concerns at the earliest stages allowing you to enjoy a better, brighter smile over the years. Our team loves seeing the whole family, and we offer the right techniques for children and adults alike! Please contact our Allen, TX location today if you have any questions, or if you're ready to schedule your first appointment. New patients from Lucas, McKinney, Fairview, Plano, and beyond are also welcome.
Check-Ups & Cleanings
For patients with generally good oral health, Dr. Moreland recommends attending a check-up and cleaning every six months. This recommendation may increase in frequency if you're in need of additional treatment or you have an oversensitivity to decay. These routine appointments are one of the most crucial steps you can take to protect your oral health and happiness.
Your routine evaluation at Southern Star Dental is composed of multiple parts. Digital X-rays show us a complete picture of your mouth, and our visual examination of the surfaces of each tooth, the gums, your bite, the vitality of existing restorations, and other important areas adds to this picture. Our goal during this process is to locate even the smallest areas of damage and take note of them accordingly. Once we fully understand your dental needs, Dr. Moreland provides personalized recommendations for treatment.
Following your check-up, it'll be time for a thorough cleaning. Cleanings are extremely helpful when clearing away plaque, a sticky substance filled with bacteria that's constantly developing over tooth enamel. While patients can remove plaque themselves with diligent oral hygiene, missed areas develop into a hard deposit known as tartar, which requires professional intervention. Our Allen team is as in-depth as possible when it comes to hygiene, and we'll always leave your mouth feeling nicely refreshed.
Digital X-Rays
X-rays are an important part of dental care, allowing us to see what's under the surface of your smile. While traditional methods for capturing them had their pitfalls, our state-of-the-art digital approach at Southern Star Dental allows for the increased convenience and safety our patients deserve. Instead of having to use a darkroom, these detailed images are transferred to a nearby computer monitor in seconds for easy viewing, and our team can even color-code and magnify them as an educational tool for patients. Better yet, the amount of radiation involved is reduced by up to 90%.
Children's Dentistry
Dr. Moreland loves welcoming whole families to her Allen, TX practice, and that includes the youngest members! The care you receive as a child affects how you view the dentist for years to come, which is why our team offers a warm and comfortable environment that's filled with friendly faces. Gentle check-ups and cleanings make it possible for our team to assess damage and possible developmental concerns, and lessons on brushing and flossing help your son or daughter take care of their smile at home. Fluoride treatment and dental sealants are also available.
Dental Sealants
It's often tricky to clean those hard-to-reach back teeth, especially for younger patients who are just learning. Thankfully, dental sealants from our team at Southern Star Dental provides a valuable extra layer of protection. The application is simple – Dr. Moreland paints the tough plastic material right over the chewing surface sealing the tooth's grooves shut and minimizing the threat of food particles and bacteria accumulating there.
Oral Cancer Screenings
Millions of Americans are diagnosed with oral cancer every year, and many of those cases are already so advanced that the consequences can be destructive or even deadly. That's why Dr. Moreland makes oral cancer screenings an important part of your routine check-ups. During this process, our team will thoroughly scan your soft tissue for tell-tale symptoms, such as sores that easily bleed, white or red patches, and thickened or crusty areas. If we find something suspicious, we'll help you take the next steps towards a biopsy and a solid diagnosis.
Athletic Sportsguards
Do you (or a loved one) play a sport? The last thing you want to worry about at those times is whether or not your smile will stay safe. Thankfully, a personalized sportsguard from our team can provide patients with the protection they need. Unlike one-size-fits-all models at the athletic store, our appliances are precisely made to fit comfortably and allow plenty of jaw movement. In fact, research shows that wearing a sportsguard may reduce the severity of concussions.
Nightguards for TMJ/Bruxism
Bruxism (also known as teeth grinding) is a common habit among adults, and one that leads to dental damage, painful headaches, and other unpleasant symptoms. What's worse is that it often occurs while patients are asleep, making it hard for them to consciously stop. With a quality nightguard from our Allen, TX practice, patients better protect their smiles and rest easy.
Periodontal Treatment
Do your gums bleed easily when you're brushing or flossing? Does your breath stink even after you've used mouthwash? These are common signs of periodontal disease, a potentially dangerous oral health condition that a majority of the population suffers from. Here at Southern Star Dental, Dr. Moreland screens for periodontal disease during your routine visits, and we offer multiple treatment options if needed to remove bacteria and restore health to your gums and teeth.