Your Allen, TX Emergency Dentist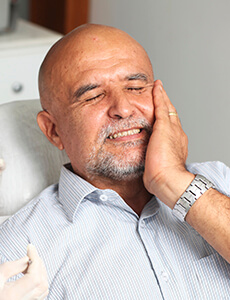 If you or a loved one has experienced a dental emergency in the past, you understand how frightening the experience can be. These situations happen in an instant, so it's important to be prepared by having the right dental team on your side for skilled support and fast relief. At Southern Star Dental, Dr. Pennie Moreland and her staff are here for you. We do everything in our power to see emergency cases on the same day as your initial call, whether you're a returning patient or a brand-new patient. We can also provide guidance over the phone for how to best manage your emergency until you're able to reach us. Here are some helpful tips for the most common situations we see here in Allen, TX:
Knocked Out Tooth
Do you still have the tooth? If so, carefully rinse away any food particles or other foreign debris leaving natural tissue intact. Then, place the tooth back in its original socket and hold it in place. If this isn't possible, place the tooth in a cup of milk instead, and don't forget it when you make the journey to Southern Star Dental. Once you arrive, Dr. Moreland can determine whether or not reattachment is a viable option.
Broken Tooth
Gather any significant pieces and gently rinse away foreign debris. Make sure to bring them with you to our Allen location! In the meantime, patients my experience facial swelling; a cold compress held over the appropriate cheek can reduce this.
Painful Toothache
Is it possible that something caught between your teeth is causing the discomfort? Floss and rinse your mouth thoroughly to make sure. If you're still experiencing pain, please contact us right away for further instruction.
If you're experiencing heavy oral bleeding or an injured jaw that's possibly broken, please don't wait on our team. Instead, go straight to your nearest emergency room for assistance. Later on, Dr. Moreland can assess your condition and provide any necessary reconstructive work to rebuild damaged and lost teeth. Contact our Allen, TX location today to arrange emergency care! Patients from Lucas, Fairview, Plano, McKinney, and beyond are welcomed.