July 11, 2016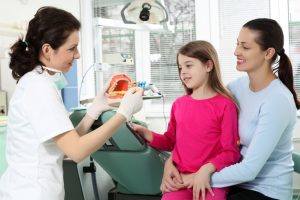 When it comes to the health and beauty of your family's smiles, nothing is more important than choosing a family dentist to care for your family. As a family dentist in Allen TX, we treat patients of all ages and through all stages of life. With a strong commitment to family and comfortable care, our comprehensive services cater to the unique needs of your family to promote long-lasting healthy smiles. At Southern Star Dental, we are your dentist in Allen TX who will grow with your family.

Your Children's Dentist in Allen TX
It is recommended that children see a dentist for the first time before the age of one. Even as the baby teeth are still erupting and developing, visiting a dentist plays a crucial role in your child's oral health. With early visits to your children's dentist in Allen TX, we are able to set the right foundation for your child to develop strong, healthy teeth. With an array of preventive services, such as dental cleanings, checkups, fluoride treatments, and dental sealants, we will protect your child's baby teeth from damage. Our caring and personalized care makes children feel right at home. They will enjoy going to the dentist by building a relationship with us. Through all stages of life and oral development, we will always be by their side.
Family Dentist in Allen TX
In addition to a children's dentist, we are a family dentist so we treat patients of all ages. Now, you are able to visit the same dentist as your young children so your entire family will receive the dental care they need from one team of dental experts. Our diversity of services allows us to accommodate the individual needs of each member in your family. No matter if your family needs restorative services, dental implants, or cosmetic dentistry, we're able to meet the needs of your family through all stages of life. We even offer specialized areas of treatment, such as sedation dentistry, to ensure every patient remains as comfortable as possible.
When you choose Southern Star Dental, your family becomes part of our family, which means we are always here for you—even during emergencies. When a dental emergency happens, we offer emergency services to quickly treat the emergency while providing you with comfort and peace of mind during the stressful time.
Benefits of a Family Dentist
As a family dentist in Allen TX, we strive to make dental care for the whole family easy and convenient. By having your family's dental needs met in one location, you'll save time and money while your family gains a trusting relationship with their dentist. We will be by your family's side through all stages of oral development—from the eruption of the first baby tooth to the time tooth replacement may be needed.
At Southern Star Dental, we invite your family to join our own. We're here to care for your family's oral health for many years to come with complete dental care for the entire family.
Comments Off on Dental Care for the Entire Family
No Comments
No comments yet.
RSS feed for comments on this post.
Sorry, the comment form is closed at this time.